NAIDOC Week
Indigenous mural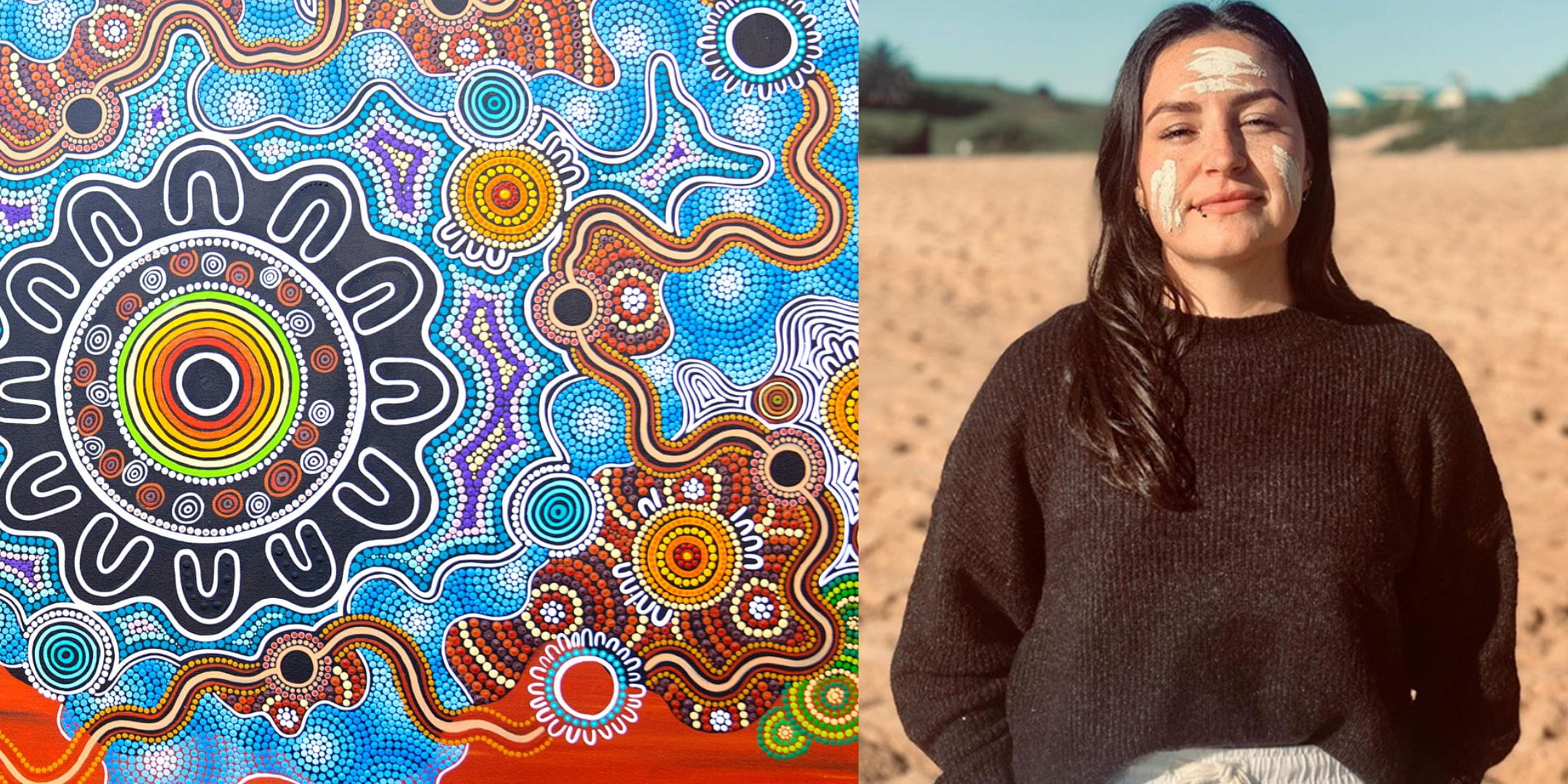 East Village has proudly commissioned Yuin artist Karlie Stewart to paint an Indigenous mural near East Phoenix. Visit us this NAIDOC Week to witness Karlie's creative process, and join her on Friday 4 July from 10am to 1pm for the final touches and hear the story behind her art.
'Baranyi, Yagu, Barrabugu (Yesterday, Today, Tomorrow)' - Karlie Stewart
For tens of thousands of years, Gadigal people have enjoyed an intrinsic, reciprocal relationship with each other, the lands, waterways, animals and plants, and spirit of the Country that we are currently standing on. They have been guided by ancient and sacred cultural knowledges and practices to nurture this Country. Still today, Gadigal people look after this land for us all to enjoy and benefit from. On the land that we are standing on, Gadigal people crafted ancient spears and tools to hunt and fish for food, and to care for Country and one another. These cultural practices allowed Gadigal people to live in abundance and harmony with Country, and to continue sustaining life on this land for thousands of years to come. We are here today being nurtured by Country, from the seeds Gadigal people have sowed for tens of thousands of years.
This artwork celebrates the rich culture and traditions that Gadigal people have practised for tens of thousands of years on this Country, the caring and nurturing of Country, the animals, plants and people that have thrived on this Country, and the stories, spirit and language that Country holds. This land sustains us and our way of life, but we must continue to look after Country through ancient cultural practices, so it will continue to nurture and heal our people, our communities and itself.
This artwork is a reminder for us all that this land always was, and always will be Aboriginal land - baranyi, yagu, barrabugu (yesterday, today, tomorrow).
Karlie Stewart is a Yuin woman, whose home is the South Coast of NSW, however she has lived in and around the Sydney area for 15 years. Since living away from ngura (country) for such a long time, Karlie often paints memories, stories and reflections of Yuin Country, taking inspiration from the vibrant colours and lively landscape of her home. The healing properties of Country, spirit and culture is celebrated and reflected in all of Karlie's art, along with the symbiotic relationship enjoyed between Aboriginal people, Aboriginal communities and Aboriginal land. Find Karlie on Instagram @katungalart
The Mirvac Group (Mirvac Limited and its controlled entities) collects and uses personal information about you to provide you with information you request from Mirvac. Mirvac also uses your personal information for related purposes including to request your feedback on the products and services provided by Mirvac. If you do not provide all the personal information Mirvac requests from you, Mirvac may be unable to provide these products or services to you.
Mirvac may disclose personal information about you to third party agents and service providers to assist Mirvac in the operation of its business to provide the products and services you request. Your personal information may also be disclosed to overseas recipients who use the personal information to assist Mirvac in the operation of its business.
The Mirvac Group Privacy Policy (available on www.mirvac.com) contains information about how you may request access to and correction of personal information Mirvac holds about you, or to make a complaint about an alleged breach of the Australian Privacy Principles.
Promotion of other products and services
By submitting this form, you agree to Mirvac using your personal information to promote its products and services. If you no longer wish to receive promotional information from Mirvac, you may advise Mirvac of your wish. The Mirvac Group Privacy Policy contains information about how you may send your request to Mirvac.