Cooking Class
Traditional Mooncake Recipe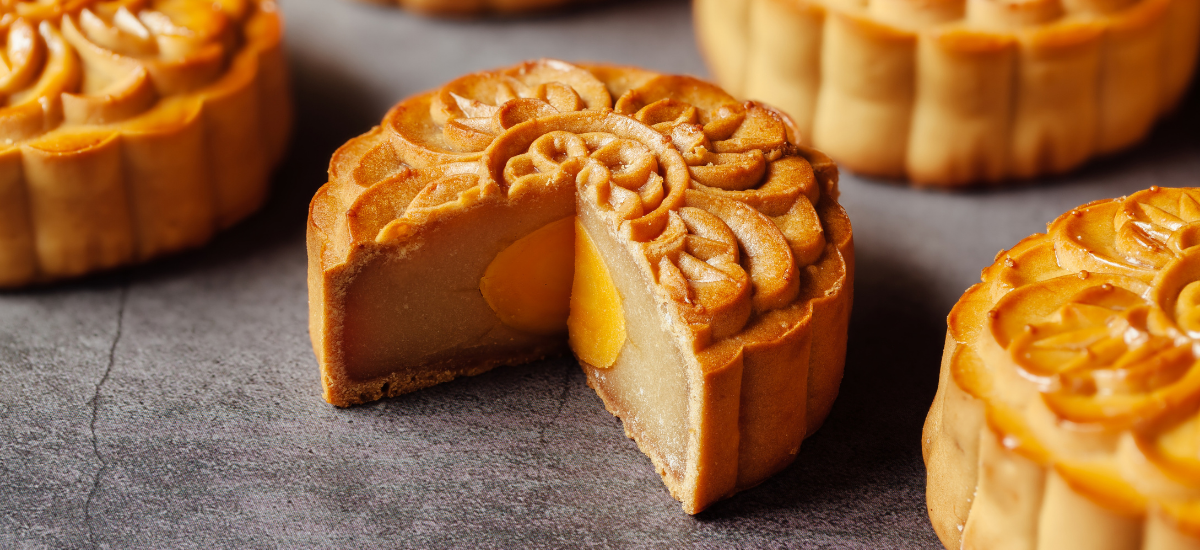 Mooncakes are the beautiful and essential Chinese dessert served during the Mid-Autumn Festival, which falls on the 21st of September. Learn the art of making this delicious, traditional dessert and celebrate Moon Festival with your family and friends at home.
What you will need:
For the lotus seed paste:
120 g dried lotus seeds
90 g sugar, or to taste
70 g sunflower oil, or peanut oil, rapeseed oil, etc
For the dough:
150 g invert syrup, or golden syrup
50 g sunflower oil, or peanut oil, rapeseed oil, etc
½ teaspoon lye water (Kansui)
220 g all-purpose flour
Cornstarch, for dusting
For the egg wash:
1 egg yolk
1 teaspoon water
You also need:
All ingredients available at Zetciti Asian Supermarket. Located on the Ground Floor near Taste Growers Market. Plus don't forget to stop by Gan Bei to find the perfect drop and check out their range of Mooncakes.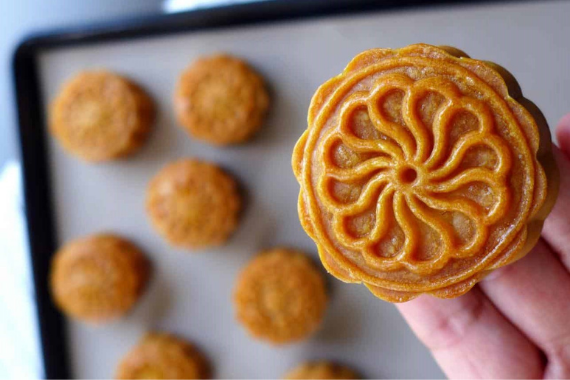 Method:
Make the lotus seed paste
Soak dried lotus seeds in water overnight. Drain and remove the green centre (if any).
Boil in fresh water (enough to cover) until soft (about 30-40 minutes). Drain, then puree in a food processor (add a little water if necessary).
Transfer the puree into a non-stick pan. Cook over a medium heat. Add sugar and oil in batches. Stir and flip constantly. Once the paste becomes dry and holds in shape, remove to cool.
Prepare the dough
Mix syrup, oil and lye water until well incorporated. Add flour. Knead briefly until combined
Cover and rest for 30 minutes.
Assemble the cakes
Put one egg yolk and some lotus seed paste on the scale. Adjust the filling to reach 30g.
Flatten the paste into a round wrapper. Place the egg yolk in the middle. Gently push the paste upwards to seal completely.
Flatten 20g of the dough into a wrapper. Use the same method to tightly wrap around the filling and make a ball (Please refer to the video below).
Shape the cakes
Coat the ball with a thin layer of cornstarch. Put it into a mooncake mould.
Place the mould on a baking tray (lined with parchment paper if necessary). Gently press to shape.
Bake the cakes
Preheat the oven to 190°C / 375°F. Bake the cakes for 5 minutes (Meanwhile, mix the egg wash).
Reduce the temperature to 160°C / 320°F. Take the mooncakes out and brush the top with a thin layer of egg wash. Put back into the oven and bake for a further 5 minutes.
Remove and brush with another layer of egg wash. Then continue to bake for 10-15 minutes until evenly brown.
Rest & store the cakes
Once completely cooled, store the mooncakes in an airtight container for at least 1-2 days. They are ready to be served when they become soft to touch and appear shiny.
You may keep them in the fridge for up to 2 weeks. Bring back to room temperature prior to serving.
Enjoy with family and friends under a beautiful full moon.

All ingredients can be bought at Zetciti Asian Supermarket, who are open for your essentials.
Recipe by Red House Spice. Click here for website.
INSPIRATION
Check this out