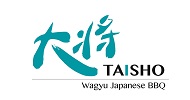 Taisho Wagyu Japanese BBQ
Taisho is not only the title of a Japanese Era presided over by Emperor Taisho, but also the title of the military rank Major General. Only the best chefs in Japan can be named Taisho. To be Taisho means to have the techniques of a Major General with the foundation of fresh ingredients. Taisho Restaurant adheres to these principles by sourcing only the best ingredients daily. When required, ingredients are flown directly into Sydney and delivered to Taisho Restaurant only moments before they are presented to diners. No expense is spared. The traditional flavours and meticulous technique result in a cuisine that warms the heart and soothes the soul. It only takes one bite of the many dishes to understand the Taisho mindset. Dishes like edamame, sushi, broiled sea eel, vegetable tempura and sizzling wagyu beef steak.
Visit our store at East Village!
Taisho Wagyu Japanese BBQ delivers - Order via Deliveroo.
Taisho Wagyu Japanese BBQ Trading Hours
About Taisho Wagyu Japanese BBQ